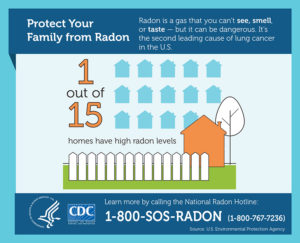 What is Radon?
According to the EPA, "Radon is a naturally-occurring radioactive gas that can cause lung cancer. Radon gas is inert, colorless and odorless. Radon is naturally in the atmosphere in trace amounts. Outdoors, radon disperses rapidly and, generally, is not a health issue. Most radon exposure occurs inside homes, schools and workplaces. Radon gas becomes trapped indoors after it enters buildings through cracks and other holes in the foundation."  To sum it up, radon comes from the Earth and enters buildings through cracks or holes.
Different states handle radon safety in different ways, how does Utah do it?
"Utah has no meaningful regulations for the carcinogenic gas that's produced as uranium breaks down in the soil, then seeps into basements and ground-level floors, posing a health hazard to anyone breathing it. Yet Eleanor Divver, Utah's radon project coordinator, has seen states l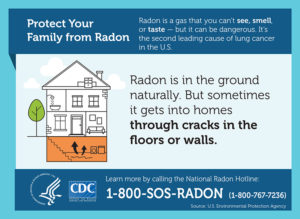 ike Minnesota, Illinois and Maine pass laws that are making a difference. These states and others have created policies that impact residents at crucial junctures like new home construction, home sales and school classrooms — potentially saving lives." Sara Israelsen-Hartley, Desert News, January 2020.
What does this mean for my home I live in now?
Radon is odorless, tasteless, and invisible. The only way to determine if it is present is through a radon test. Usually radon tests are performed, but not required (in Utah) before purchasing a home to determine if there's radon present. According Healthline.com, About one in every 15 homes is thought to have high levels of radon. The highest concentration of radon tends to be found in the basement or on the first floor. Radon impacts your lungs, but not to a point that you have symptoms, like trouble breathing or shortness of breath. Over time, radon can damage lung tissue and even cause cancer.
I just bought a brand new house, it's probably safe, right?
No. Quite the opposite. Many new homes built in Utah do not come with a radon mitigation system. "Ross Ford, executive officer of the Utah Home Builders Association, said he knows some Utah builders install passive systems proactively, but couldn't specify exactly who, as it's not something the state or the association tracks, though he admitted it would be a good idea." Sara Israelsen-Hartley, Desert News, January 2020. While it's cheaper to install a radon system in the building process, many new homes do not have it installed.  Sometimes a new homeowner is given the option, but not always as it's not required in Utah.  If you're building a new home, be sure to ask about installing a radon system installed by certified radon professional, not a general contractor.
I'm looking to buy a home and would like to test for radon, how does that work?
HomeTech offers radon testing with a home inspection or as a stand alone service. Radon testing is done for 48 hours using a professionally calibrated, Sun Nuclear 1028 continuous radon monitors. Results are ready on the day that monitor is picked up. Longer testing is available, please call for a quote. Visit our Radon page for more information about this colorless odorless gas.
What about radon in other places?
Some schools test for radon, according to the EPA, 1 in 5 schools tests for radon.  In Utah, about half have tested for radon according to the article quoted above. Read more here.